Agricultural Spray Foam Insulation in Atlanta, GA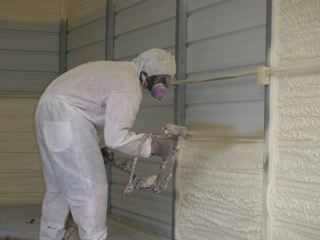 What makes Atlanta spray foam insulation environmentally friendly? First and foremost, it fills every imaginable space trapping the heat, cool air, or moisture from escaping through cracks. It also cuts down on wasted energy by 20-40%. So by using insulating your home with this energy-efficient material, you are using less energy to begin with.
Also, some brands of foam are made from agricultural based materials and use high levels of reusable materials. While the amount of energy saved in your home and business is remarkable and very environmentally friendly, when you consider the whole process of manufacturing to installation there are some non-green practices involved.
Recent Articles
Down Home Spray Foam Insulation in Marietta

In these economic times, many Marietta home owners are looking for more ways to make their homes energy efficient. One consideration for this is hiring  a professional insulation installer to use spray foam insulation to fill walls, nooks and crannies. As spray foam insulation is sprayed into openings in the area, it expands to create the…

Read More

Top Atlanta Home Insulation Types

The Department of Energy in the United States roughly estimates that about 50-70 % of the energy that Americans used in their homes generally comes from cooling and heating. This figure can be decreased by a considerable amount through the use of an apparatus called home insulation. This apparatus can help reduce the energy consumption…

Read More

If you're looking for a professional Atlanta Agricultural Spray Foam Contractor, then give us a call today at 678-561-FOAM (
678-561-3626

) or complete our request estimate form.