YOUR SOURCE FOR THE BEST IN CLOSED CELL FOAM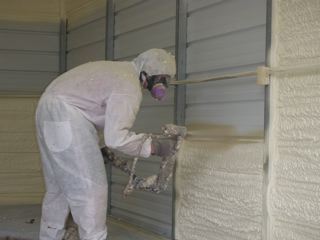 Closed-cell Atlanta spray foam insulation is made up of small foam cells but its tiny foam cells are closed and packed together. They are filled with a gas, not air, which makes the foam rise, expand and become a much greater, denser and completely waterproof insulator.
Weighing one cured cubic foot of foam material gives us a measurement of its density. Roofing applications typically use even greater density foam to support greater loads. The higher the density the foam the stronger it will be. Many polyurethane foams can turned into decorative moldings and painted/stained to look like wood. There are "super dense" foams with densities of 30 lb./cu. ft. to 40 lb./cu. ft.
Closed cell foam adds significant structural strength to any home to which it is applied. In many tests conducted, the closed cell foam insulation doubles the racking load making your home more resistant to severe weather conditions. Closed cell foam will not sag, settle, or lose its R-Value like loose fill and fiberglass insulation.
The Southeastern Insulation Closed Cell Foam Advantage
When you're building a new home, you want your insulation handled by area professionals with the experience and know-how to get the job done right. At Southeastern Insulation we provide the best insulation contractors around, and can provide you with safe, fast, and easy application of the highest quality insulation on the market. You cannot go wrong in turning to the experts at Southeastern Insulation!
Our Services Include:
Closed Cell Foam Installation
Open Cell Foam
Insulation Removal
Denim Insulation
Fiberglass & Cellulose Insulation
Hybrid Systems
Total Home Efficiency
Thermal Imaging
Crawlspace Encapsulation
Recent Articles
The Benefits of Atlanta Closed Cell Foam Insulation

Atlanta Closed cell foam insulation is one of the two types of spray foam insulation. The main difference between closed and open cell insulation in that the former has multiple encapsulated cells which let neither air nor heat seep through while the latter is a porous structure of foam. The difference arises due to the base…

Read More

Down Home Spray Foam Insulation in Marietta

In these economic times, many Marietta home owners are looking for more ways to make their homes energy efficient. One consideration for this is hiring  a professional insulation installer to use spray foam insulation to fill walls, nooks and crannies. As spray foam insulation is sprayed into openings in the area, it expands to create the…

Read More

Customer Reviews
---
I found Adam to be very knowledgable and his team delivered the quality he assured. I found this to be one of those times I have gotten excellent work at a fair price, especially as a residential homeowner! I will be referring my network to his company and I hope you choose to give them an opportunity to quote your needs!

---



This service was better than I could have ever imagined. The team arrived first thing in the morning and worked continuously while they were at my home. They made sure everything was covered before work and cleaned up after. The spray foam insulation made a HUGE difference in the temperature in my home just before the extreme change in outdoor temperature. Adam returned to my home a few days later to check the status of my spray foam insulation and noted that it was abnormally hot in the attic. After a relentless search I had some loose ducts and he went out of his way to fix them although they were out of range for his service. I really appreciate Southeastern Insulation. Also the price was very reasonable compared to the other companies. They WILL be doing my basement and garage soon. I give them 6 stars out of 5. Thanks Adam, Jeremy and team.

---



"We live in a 1984 condo community with master on the main and a room upstairs where I put my office. The upstairs area would never cool. I replaced the zone air conditioning system and added "blow in"insulation in the attic and still the area was unusable in the summer months. I would get home and go upstairs at 5:30 PM and the air conditioning would be running and the temp would be 96 degrees. This is not a good thing. I called my air conditioning company and the technician recommended that I look into open cell insulation. I found Southeastern Insulation and my issues are solved.The same area that was 96 degrees is now at whatever I set the thermostat at. I usually set the upstairs at 78 in the summer and 62 in the winter. This is Feb 1, 2013 and it is cold in Atlanta. My thermostat is set at 62 and the inside temp is 70 degrees. This is a blessing. "

---



"My husband and I researched spray foam insultation before contacting Southeastern Insulation. We had gotten several companies to stop by our home and talk with us about their products. We chose Southeastern Insulation to do the work.. (closed cell insulation in our basement which we were remodeling and open cell insulation in our attic). They also did the closed cell spray foam in our crawl space.The work was done in early Spring of this year but I wanted to wait until the weather changed towards Summer to accurately and honestly give an evaluation of just how much of a difference the work we had done would make. Adam had told us that we'd notice a big difference...and we did. Our house seems so much more comfortable and the air conditioner runs far less than it did before the work was done. One of the concerns I mentioned to all the contractors we had estimates from was that when we stepped out from our kitchen into our garage, t he garage seemed like an oven. When I told Adam this...he said...here's what I suggest...open cell spray the entire garage ceiling...we'll spray the backside of the small door that leads into this attic and I guarantee you that you'll notice a huge difference. He was exactly right.In the basement remodel, I love the fact that we now have closed cell insulation on the walls. Not only did Southeastern Insulation do a fantastic job, they were professional, courteous, conscientious and worked around our remodel project. They even returned to fix a problem that was created by our remodelers and was in no way a result of their own workmanship. I would highly recommend this company. Our son will soon be buying a house and moving from the condominium he owns. We've told him that one of the first things he needs to do is contact Southeastern Insulation for improving the insulation in any home he may purchase.It's well worth the investment. "

---



"You fixed the draft! Thanks so much. Southeastern Insulation is one of the most professional contractors that I have used. They showed up when they said, worked diligently and neatly, and even came back to fix an issue that was not a result of their workmanship. I would use Southeastern Insulation on any future houses I build."

---



"Adam does excellent work and is very conscientious. The closed cell foam insulation he used greatly reduced the musty smell from our crawl space and reduced drafts as well."

---



"The new insulation really works well. The attic is surprisingly warm...just a touch colder than the house."

---



"I have hard three friends ask about your company recently, so I am hopeful that our job will prove profitable in the end. I thought the attached photo might be useful advertising for you. No signs of melting on the addition, the back dormer, nor the heated portion of the wrap around porch - all the places you foamed! The front dormer, even with the new fiberglass is already melting away, to say nothing of the rest of the old roof."

---



"Thanks for yours and your guys' great craftsmanship. They are a good rew and conscientious workers for sure. I will be back in touch on my shop figures."

---



"Insulation looks great!! Thanks!! Can't wait for winter. I have referred you to one of my customers."

---



"Thanks for the great job you did on our lithonia plant roof. It made an awesome improvement!"

---



If you are in need of the service of the best in Closed Cell Foam insulation, please give us a call at 678-561-FOAM or complete our online request form.