What An Atlanta Radiant Heat Barrier Means For You
---
---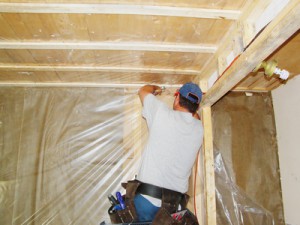 Do you feel like the hot sun is constantly beating down on your house? Installing an Atlanta radiant heat barrier is a great solution to this dilemma you are facing. They are an excellent way to be energy efficient as they reflect sunlight from your house and make it easier for you to retain a constant, comfortable indoor temperature.
What is an Atlanta Radiant Heat Barrier?
Radiant barriers are similar to insulation for your home, but instead of catching the heat they actually reflect it. They are made of reflective material, often aluminum foil, and are usually installed in the attic of a house. They help reduce cooling costs during the summer and must reflect 90% of radiant heat to even be qualified as one.
How effective are Atlanta Radiant Heat Barriers?
Radiant barriers are very effective at keeping the hot air out during the summer and in during the winter. They effectively reflect heat in the summer to keep your home cool and reduce the energy your HVAC systems has to expend then, and in the winter as well.
Installing a radiant barrier in your home is a great solution for anyone who wants to increase their home's energy efficiency and decrease their home's utility bills. Adding them to your home can decrease the amount of heat that comes in by up to 50%, and are a worthwhile addition to any home.
Proper Installation of Atlanta Radiant Heat Barriers
It's very important that radiant barriers be installed properly in your home. No one wants to spend money on something that's not installed correctly and therefore doesn't work effectively. To avoid this from happening, you should research where and how the barrier should be installed.
It is often wise to hire a professional to install them just to make sure that everything is where it is supposed to be and it is installed properly. But it is also okay if you want to install the them yourself- just make sure you are up for the challenge and are ready to take your time to do the job correctly.
For older homes it is preferable that the radiant barrier is attached to the bottoms or the faces of the rafter of the roof trusses. It is essential that they are facing an open space because this is the only way that they will work effectively in your home. Another way a they can be installed is laying it on top of the existing attic insulation.
How Atlanta Heat Radiation Works
Heat can flow into your home by radiation and that is what an Atlanta radiant barrier is for- to stop the flow of radiation. Radiation is the flow of heat in a wave from a warmer object to a cooler one. This is the type of heat that you feel without actually touching whatever the heat source is.
Atlanta radiant barriers are an important addition to your home. During the hot summer months your attic insulation may actually reach 130 degrees! Isn't that crazy?! What a great product Atlanta radiant barrier is that it can reflect that heat to keep your whole attic cooler.
An Atlanta radiant heat barrier is a worthwhile product to install in any home facing these hot conditions during the summer.
Article Source: http://EzineArticles.com/6425129
Recent Articles
How Insulation Within Your Atlanta Home Works

In this day and age of high energy prices, Atlanta homeowners need to make sure that their properties have the proper amount of insulation. Insulation provides a resistance to heat flow. As such, it keeps heat out of your residence during the summer, and it keeps heat within your residence during the winter. In this…

Read More

Top Atlanta Home Insulation Types

The Department of Energy in the United States roughly estimates that about 50-70 % of the energy that Americans used in their homes generally comes from cooling and heating. This figure can be decreased by a considerable amount through the use of an apparatus called home insulation. This apparatus can help reduce the energy consumption…

Read More

If you are looking for an insulation company in the Atlanta area, please call Southeastern Insulation at 678-561-3626 or fill out our online request form.