Atlanta Spray Foam Insulation Contractor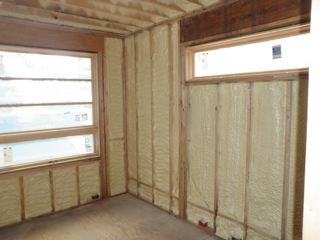 Residential spray foam insulation is liquid polyurethane that forms into a solid, foam-like substance once it hits a solid surface. The liquid state allows it to penetrate fine cracks and holes in the surface that products like fiberglass can't protect. Since the entire surface area is sealed, it is much more energy efficient than any other material available.
It keeps more warm air in during cold months, and keeps it out when it becomes hot. Your electric bill will reduce, saving you money and helping the environment. Buildings with spray foam insulation also sell at higher prices, adding value to your property.
Atlanta spray foam insulation also discourages pests from burrowing into your home. The insulation is difficult to tear through, and it can be sprayed along cracks and openings to ensure that no uninvited guests attempt to slip inside of your home. You'll no longer have to fumigate with dangerous pesticides. It can also help keep moisture out, and is excellent for preventing mold and water damage.
Recent Articles
Choosing Different Types of Home Insulation

Some of us remember when the only option around were the rolls of pink insulation. And maybe that if you touched this pink stuff it made you itch like itching powder. However, things have changed a great deal in the past few years in regards to insulation. For one thing, you can choose different types…

Read More

Effective Canton Home Insulation Reduces Cooling Costs - Insulation Helps You Winter AND Summer

Everyone knows that insulation is the key to keeping your home heating costs in check. But did you realize that effective insulation can also help keep your Canton cooling bills down? It's important for your house to be thoroughly insulated for big savings all year round. Your local contractor in can help you upgrade your…

Read More

If you're looking for a professional Atlanta Residential Spray Foam Contractor, then give us a call today at 678-561-FOAM (678-561-3626) or complete our request estimate form.