Atlanta Closed Cell Spray Foam Contractor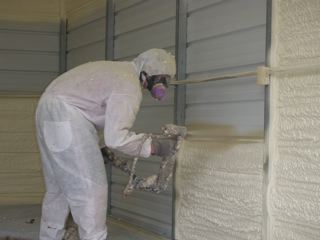 Closed-cell Atlanta spray foam insulation is made up of small foam cells but its tiny foam cells are closed and packed together. They are filled with a gas, not air, which makes the foam rise, expand and become a much greater, denser and completely waterproof insulator.
Weighing one cured cubic foot of foam material gives us a measurement of its density. Roofing applications typically use even greater density foam to support greater loads. The higher the density the foam the stronger it will be. Many polyurethane foams can turned into decorative moldings and painted/stained to look like wood. There are "super dense" foams with densities of 30 lb./cu. ft. to 40 lb./cu. ft.
Closed cell foam adds significant structural strength to any home to which it is applied. In many tests conducted, the closed cell foam insulation doubles the racking load making your home more resistant to severe weather conditions. Closed cell foam will not sag, settle, or lose its R-Value like loose fill and fiberglass insulation.
The Southeastern Insulation Closed Cell Foam Advantage
When you're building a new home, you want your insulation handled by area professionals with the experience and know-how to get the job done right. At Southeastern Insulation we provide the best insulation contractors around, and can provide you with safe, fast, and easy application of the highest quality insulation on the market. You cannot go wrong in turning to the experts at Southeastern Insulation!
Our Services Include:
Closed Cell Foam Installation
Open Cell Foam
Insulation Removal
Denim Insulation
Fiberglass & Cellulose Insulation
Hybrid Systems
Total Home Efficiency
Thermal Imaging
Crawlspace Encapsulation
Recent Articles
Closed Cell vs. Open Cell Spray Foam Insulation

Spray foam insulation is very popular in Cornelia and can be used in various areas of a home. There are two types of spray foam insulation to choose from – closed cell foam and open cell foam. Spray foam insulation is easy to apply, and it prevents air from seeping in and out of the…

Read More

Down Home Spray Foam Insulation in Marietta

In these economic times, many Marietta home owners are looking for more ways to make their homes energy efficient. One consideration for this is hiring  a professional insulation installer to use spray foam insulation to fill walls, nooks and crannies. As spray foam insulation is sprayed into openings in the area, it expands to create the…

Read More

If you're looking for a professional Atlanta Spray Foam Contractor, then give us a call today at 678-561-FOAM or complete our request estimate form.