Atlanta Crawlspace Encapsulation and Insulation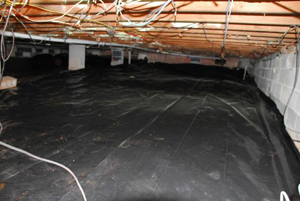 There are many different factors that figure into the heating and cooling efficiency of your home, and one of these is a properly encapsulated crawlspace. The crawlspaces in your home are an area where insulation can often be lacking, and you can end up seeing a significant reduction in your energy efficiency. One of the best ways to prevent this from being a problem is by properly insulating all aspects of the area, which means getting the assistance of professional encapsulation services like those that Southeastern Insulation can provide.
With proper encapsulation you will greatly reduce the amount of humidity that builds up in these areas of your home, helping improve your air quality in the process by reducing the chances of mold buildup and other harmful growth that can otherwise go unnoticed. Deciding to encapsulate your home or business crawlspace is a good way to ensure the health of your building.
Not only this, but an encapsulated crawl space will help to provide an easier time managing your heating and cooling. Warm and cool air can escape into and out of your crawlspaces, but with proper insulation this problem is negated. An encapsulated crawlspace presents a solid thermal barrier, so you won't have to waste energy dollars maintaining a comfortable environment in your home.
Improve the durability of your floor, HVAC equipment and other devices kept within your crawlspace
Provide a strong barrier against vapor and condensation
Lower the humidity inside of your home
Keep out pests and make your home more resilient against these problems
Increase the comfort of your home
Enjoy cleaner and more breathable air
The Southeastern Insulation Advantage
With years of experience providing the Atlanta with the absolute best in energy efficiency assistance, our insulation experts can offer you top-quality service on any project that you get our help. We are wholly committed to offering the best products around, and take great pride in the work and craftsmanship that we provide. We have built a strong reputation off of exceptional customer service and know that you will be pleased with any work you have conducted by the experienced team at Southeastern Insulation.
Recent Articles
What Are the Top Benefits of Pipe Insulation in Your Atlanta Home?

You need to be very careful during the winter season. It is very much essential to make sure that your Atlanta home gets heated in the right manner. Other than this, you must also take care of the amount of heating required to heat your rooms. You must be careful that it does not become…

Read More

Atlanta Foam Pipe Insulation: Solution to Sweating Pipes

Water puddles on your basement floor is very common among houses with Atlanta sweating pipes. Truly, this dilemma is shared by almost all homeowners in the state, even in and out of the country. Sweating pipes destroy our furniture. On the other hand, water puddles are the culprit behind slippery floors that are considered unsafe for…

Read More

If you're looking for a professional Atlanta Crawlspace Encapsulation Specialists, then give us a call today at 678-561-FOAM or complete our request estimate form.