Open Cell Spray Foam Contractor in Atlanta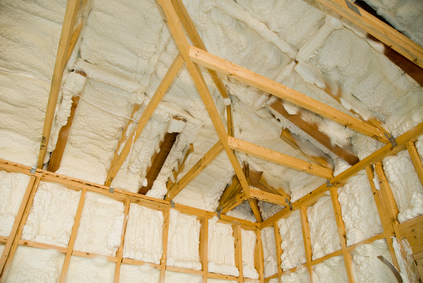 The days of pink fiberglass rolled insulation are past us and in its place are a line of foam sprayed insulation products. Open-cell foam is where the small cells of the foam are not completely closed. They are open and air fills all of the tiny air pockets in the material. This effective method of insulation installation is becoming increasingly popular in Atlanta due to its many benefits.
Open-Cell Spray Foam can be used in the rafters. It can also be sprayed directly on the underside of the roof sheathing, effectively sealing your attic from any air leaks to the outside. This eliminates any venting of the attic, but since heat does not build up in the attic it isn't a problem.
Barrier for Air
Vapor Barrier
Adds strength to the structure
Waterproof
Cannot be affected by mold
Usable in interior and exterior insulation
Increase your home's R-value
Improve Heat-Flow
Reduce your Carbon Footprint
The Southeastern Insulation Open Cell Foam Advantage
With years of experience under our belt, you cannot go wrong in turning to the staff at Southeastern Insulation. We are proud of the reputation we have established during our years of service to Atlanta and are completely dedicated to providing each and every one of our customers with the best customer experience possible. You cannot go wrong in turning to our professional insulation installation contractors, who can provide the most advanced insulation installation services for your residential or commercial needs, at the most affordable pricing around.
Our Services Include:
Closed Cell Foam Installation
Open Cell Foam
Insulation Removal
Denim Insulation
Fiberglass & Cellulose Insulation
Hybrid Systems
Total Home Efficiency
Thermal Imaging
Crawlspace Encapsulation
Recent Articles
Residential Foam Insulation Decreases Your Atlanta Home Energy Costs

Home insulation can really make a huge difference in your energy bills. If you have the proper amount of insulation, and one of the better types of insulation, you can save up to 50 percent on your energy bill. For example, residential foam insulation creates a great barrier to keep air, moisture, noise, and heat…

Read More

Marietta Spray Foam Insulation For Existing Homes

Do you have a sneaking suspicion that the fiberglass insulation in your Marietta home or office is falling apart and not doing its job? Do you find bits of pink fluff everywhere? It might be time to ditch your tired old fiberglass insulation and replace it with something that will last. Spray foam is not only…

Read More

If you're looking for a professional Atlanta Spray Foam Contractor, then give us a call today at 678-561-FOAM (678-561-3626) or complete our request estimate form.