Buford Spray Foam Insulation Contractor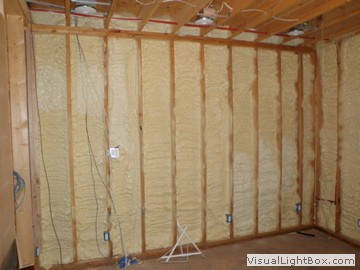 Southeastern Insulation uses spray foam insulation, made of polyurethane froth, which is the same kind of appliance that manufacturers have used in refrigerators and water heaters. It can be used as an insulating and air sealing product for residential wall and ceiling cavities. The Buford spray foam insulation is sprayed onto the wall cavities thereby expanding it.
The liquid is sprayed through a nozzle into wall, ceiling, and floor cavities where it expands to fill every nook and cranny. Because it expands into tight areas, and its froth is ideal for insulating steel framing and outlets. This product can seal and fill tiny unseen cracks and seams, eliminating energy-wasting air filtration. Excess froth is scraped off the sides to form a uniform wall cavity. It makes it easy to completely fill wall cavities with insulation and to also perform air sealing. It is applied as a liquid which contains a polymer and a foaming agent.
The Buford spray foam insulation product also helps control moisture condensation because it does not shrink or settle. It is fire resistant and reduces heating and cooling costs significantly and its thermal seal keeps cold air in and unwanted air out. Spray on insulation has also been known to improve indoor air quality, thereby decreasing the likelihood of allergies. It also has high quality sound control, and significantly reduces dust, mold and mildew accumulation.
Most importantly, the froth from the spray has been known to help the economy and the environment by using recycled materials in the froth. The containers are usually also recycled. Those who use this product are committed to providing quality renewable resource based building materials.
Lower your energy bills

Improve your home's structural integrity

Keep out pests and vermin

Improved air quality

Fend off mold growth

Lower the humidity in your home
Insulation Removal
While you might be tempted to go the do-it-yourself route when removing old insulation, you should not! Due to the hazardous nature of many materials used in insulation, you could be facing serious health risks if the work is not conducted properly; this also means disposing of your existing insulation in the proper manner. Instead of taking the risk, have your insulation removed by the professional team at Southeastern Insulation today.
Recent Articles
Insulation Types Offered in Georgia

Insulation is the phenomenon of slowing down the flow of heat, electricity or sound. Insulation can be used both to prevent heat gain and heat loss from the surrounding. Most electrical appliances use insulation technology like the refrigerators and freezers in your Georgia home. Insulation should be installed in the areas between heated and non…

Read More

How Can Atlanta Thermal Imaging Help You Save Energy

A picture is worth a thousand words... or is it? A regular shot of a beautiful house may be picture-perfect. But when viewed through the eyes of a thermal imaging camera, it can reveal a lot of hidden issues. Atlanta thermal imaging is a technique using a special camera that detects heat radiation from the objects in…

Read More

If you're looking for a professional Buford Spray Foam Contractor, then give us a call today at 678-561-FOAM or complete our request estimate form.