Dillard Spray Foam Insulation Contractor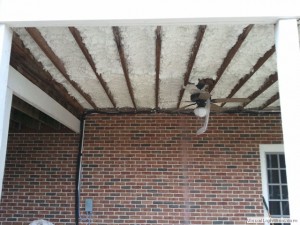 Dillard Spray Foam Insulation is used in buildings, and refers to the application of thermal insulated materials, which are applied using various spraying methods, into a roof space or wall cavity to prevent heat loss.
The application of this process is normally completed within two days. Dillard spray foam insulation does not particularly address ventilation or sound proofing issues. It simply refers to the insulating materials being used to slow heat loss. The effectiveness of it is usually evaluated by its R-value, but this does not take into account construction or local environment factors. Thermal spray foam insulation is easy to apply. Foam insulation is sprayed onto or into the underside of the roof within the attic/loft space, and dries to rigid foam.
Improve your energy efficiency

Lower your monthly bills

Keep out condensation

Keep pests at bay
The Advantage of SouthEastern Insulation
We take great pride in the work that we provide to the Dillard area, and are extremely proud of the products that we offer. We even use this insulation in our own homes, and are passionate about the services that we provide. If you want to make the most out of your energy savings, make certain to get the service of the professional team who know exactly what it takes to make that happen.
You cannot go wrong in turning to the experienced staff of Southeastern Insulation. We will help you make the most out of your energy dollars.
Closed Cell Foam Installation
Closed cell foam presents a great new way to insulate your home and improve its structural integrity. This brand of foam insulation is made of a polyurethane compound, and is strong enough to even be used for outdoor usage. If you want durability, and exceptional insulation that will last a lifetime, then closed cell foam insulation is the right choice for you!
Insulation Removal
There's no reason that you should undertake the risk of removing your insulation yourself, when you can have the service provided by a professional. There are man1y different health risks that insulation can present, and you should never breathe in the substances that can become airborne during the removal process. Instead of putting yourself at risk, have your insulation properly removed and disposed of, by the team at Southeastern insulation.
Recent Articles
Key Insulation Areas in Your Atlanta Home or Office

Whether you are building a new home or making your current home more air tight, insulation is a vital component in home protection. With proper insulation you will see a drastic reduction in your energy bill each month which adds up to tremendous annual savings. Insulation allows your heater or air conditioning unit to run…

Read More

Top Atlanta Home Insulation Types

The Department of Energy in the United States roughly estimates that about 50-70 % of the energy that Americans used in their homes generally comes from cooling and heating. This figure can be decreased by a considerable amount through the use of an apparatus called home insulation. This apparatus can help reduce the energy consumption…

Read More

If you're looking for a professional Dillard Spray Foam Contractor, then give us a call today at 678-561-FOAM or complete our request estimate form.