Gainesville Spray Foam Insulation Contractor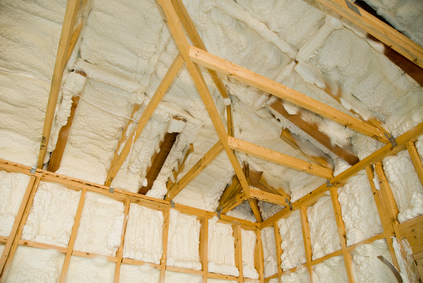 Gainesville spray foam insulation is liquid polyurethane that forms into a solid, foam-like substance once it hits a solid surface. The liquid state allows it to penetrate fine cracks and holes in the surface that products like fiberglass can't protect. Since the entire surface area is sealed, it is much more energy efficient than any other material available.
It keeps more warm air in during cold months, and keeps it out when it becomes hot. Your electric bill will reduce, saving you money and helping the environment. Buildings with spray foam insulation also sell at higher prices, adding value to your property.
Gainesville spray foam insulation also discourages pests from burrowing into your home. The insulation is difficult to tear through, and it can be sprayed along cracks and openings to ensure that no uninvited guests attempt to slip inside of your home. You'll no longer have to fumigate with dangerous pesticides. It can also help keep moisture out, and is excellent for preventing mold and water damage.
Cellulose Insulation
If you're looking for a new and exciting form of insulation that boosts your energy efficiency and greatly reduces your carbon footprint, then you should consider installing new cellulose insulation in your home. This form of insulation is made of recycled materials and is completely biodegradable, removing the potentially harmful byproducts often associated with other forms of insulation from the picture. Not only does it provide an exceptional thermal barrier, but it also keeps mold at bay, and is exceptionally resistant to pests and other problems.
Fiberglass Insulation Installation
If you're looking for a simple and affordable insulation method then you cannot go wrong in turning to the classics. Fiberglass insulation has been used successfully for years and is one of the easiest ways to boost the efficiency of your home. This insulation method will help keep your energy costs low hwne properly installed by the professional team at Southeastern Insulation.
The Southeastern Insulation Advantage
It helps having work performed by professionals who not only know what they are doing but are passionate about their work, and when you turn to our team of professionals you are getting just that. During our years of service to the Gainesville area, we have developed a very strong reputation for offering the very best customer service around, and we know that you will be more than pleased with the results. You cannot go wrong in turning to the team at Southeastern Insulation!
Recent Articles
How Insulation Within Your Atlanta Home Works

In this day and age of high energy prices, Atlanta homeowners need to make sure that their properties have the proper amount of insulation. Insulation provides a resistance to heat flow. As such, it keeps heat out of your residence during the summer, and it keeps heat within your residence during the winter. In this…

Read More

Atlanta Foam Pipe Insulation: Solution to Sweating Pipes

Water puddles on your basement floor is very common among houses with Atlanta sweating pipes. Truly, this dilemma is shared by almost all homeowners in the state, even in and out of the country. Sweating pipes destroy our furniture. On the other hand, water puddles are the culprit behind slippery floors that are considered unsafe for…

Read More

If you're looking for a professional Gainesville Spray Foam Contractor, then give us a call today at 678-561-FOAM (678-561-3626) or complete our request estimate form.