Down Home Spray Foam Insulation in Marietta
---
---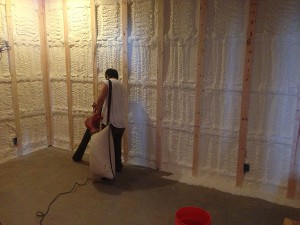 In these economic times, many Marietta home owners are looking for more ways to make their homes energy efficient. One consideration for this is hiring  a professional insulation installer to use spray foam insulation to fill walls, nooks and crannies.
As spray foam insulation is sprayed into openings in the area, it expands to create the insulation barrier, a material made using polyurethane. It can sometimes have fire-retardant chemicals mixed in, too.  Another feature of spray insulation for Marietta homes is that it functions as a good sealant. You, or your Marietta insulation contractor, can spray this insulation into holes in walls and ceilings to provide an air-tight seal. Since it does expand, it may need to be scraped prior to drying to provide a smooth exterior.
Some of the advantages of Marietta spray foam insulation include an easy to apply method of providing an air tight seal in any holes in walls or ceilings. This will cut down on heat transfer, helping your heating and cooling system to work more effectively, which means it will work more efficiently and save you money. This expanding material also makes a good insulation for steel framing outlets or forming insulation around outlets.
Furthermore, the spray foam insulation product can be combined with other materials to make it cheaper on the Marietta home owner. Many times, a Marietta insulation contractor will spray a one inch layer of foam and then top it with a layer of fiberglass batt insulation for increased performance.
Recent Articles
The Benefits of Atlanta Closed Cell Foam Insulation

Atlanta Closed cell foam insulation is one of the two types of spray foam insulation. The main difference between closed and open cell insulation in that the former has multiple encapsulated cells which let neither air nor heat seep through while the latter is a porous structure of foam. The difference arises due to the base…

Read More

Why Choose Spray Foam Insulation in Atlanta?

Choosing the right material is as important as investing in insulating our buildings in the first place - there is little point doing it if the insulation can't offer good enough performance to really make a difference, or isn't going to be up to the job in the long term. Specifiers need to understand the…

Read More

If you are looking for an insulation company in the Atlanta area, please call Southeastern Insulation at 678-561-3626 or fill out our online request form.