Key Insulation Areas in Your Atlanta Home or Office
---
---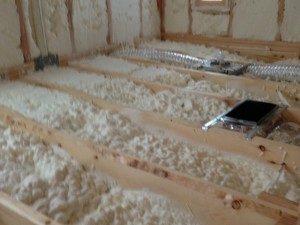 Whether you are building a new home or making your current home more air tight, insulation is a vital component in home protection. With proper insulation you will see a drastic reduction in your energy bill each month which adds up to tremendous annual savings. Insulation allows your heater or air conditioning unit to run more efficiently and protect the warm or cool air flowing through every room. Insulation cuts down on drafts either entering or escaping your home. It also protects your home's overall structure giving it longevity. Below are key areas in residential or commercial property that need to be inspected regularly and properly insulated.
The Attic – The attic is where most people think of when insulating their home – and rightly so. The attic stores a considerable amount of heat that is generated from direct sunlight hitting the roof. The wooden frame of your roof cannot repel that much heat. Since the roof of your home covers the entire area of your structure, then heat covers the entire area as well. A healthy layer of insulation is used an additional barrier in order to keep the heat from penetrating the ceiling.
Prior to insulating your attic, make sure you inspect your roof to make sure that all air and water leaks are completely sealed. Insulation is weakened considerably when it is damp. Your entire attic area needs to be insulated especially around the wall areas and edges.
Air Ducts – Ducts allow conditioned air to freely flow throughout every room in your home. It is first important to have your air ducts sealed. Since they are often installed in your attic or between floors, they are susceptible to the air that naturally resides in these areas. This can mean that dirty air is entering your air ducts. This is the same air that those in your home or office are breathing every day. Contact your local air conditioning or insulation company to have your air ducts checked for seals.
Insulating your air ducts can keep the air inside them at the desired temperature set by the thermostat. So if your air conditioner is running cold air throughout your house, insulation will protect that air as it is flowing through warmer climates in your home such as the attic or in the walls. This helps your system run far more efficiently without having to work so hard in order to keep the air at a certain temperature.
Exterior Walls – The exterior walls surrounding your home are the most vulnerable areas and, therefore, need thorough insulation all around. It is suggested that you use blow-in insulation which packs very well. As with the roof of your home, make sure all wind and water leak areas are tightly sealed in order to keep moisture and drafts from weakening your insulation. Since all homes are different, check with your Southeastern Insulation contractor to identify which type of insulation is right for your home.
If you are looking for an insulation company in the Atlanta area, please call Southeastern Insulation at 678-561-3626 or fill out our online request form.