Canton Spray Foam Insulation Contractor
When you're planning to complete any Canton home remodeling or building project, you'll need to understand the insulation needs for your particular venture. While traditional insulation certainly has its place in modern construction, it is often not the best choice. Canton spray foam is actually a better choice in many circumstances, giving you more effective insulation at a lower cost.
Canton spray foam is an extremely efficient insulating material. It excels at blocking heat, and helps prevent excessive heat from entering the home. It can also help keep the internal temperature steady, preventing heated or cooled air from escaping the Canton home as well. The measure of a material's ability to maintain the internal temperature of your home is actually called the R-value, and represents the material's effectiveness in blocking heat.
The R-value represents the amount of heat or energy the material can block, measured against the space of the material. With spray foam, the R-value is very high, making it a highly effective method for insulating large spaces.
Crawlspace Encapsulation Services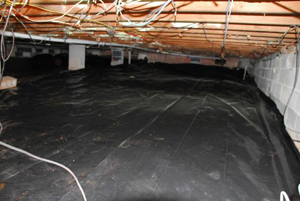 There are many ways that your home can end up losing energy efficiency, and one of those that is often overlooked are your crawlspaces! These areas of your home are often poorly insulated and offer a means through which heating and cooling dollars just slip through the cracks and out of your back account. Instead of losing money every month, have your crawlspace encapsulated, to improve the overall efficiency of your home.
A properly encapsulated crawlspace will offer you a variety of energy benefits, and keep your home better protected against pests, vermin, as well as mold infestation. A crawlspace that has been encapsulated offers an overall healthier environment in your home, and will improve the quality of the air that you breathe every day.
Lower your energy bills

Improve your home's structural integrity

Keep out pests and vermin

Improved air quality

Fend off mold growth

Lower the humidity in your home
The Southeastern Insulation Advantage
At SouthEastern Insulation we have been providing the Canton area with the absolute best in insulation installation and removal services for years, and during that time we have established ourselves as the premier source for the very best in home energy efficiency solutions. You cannot go wrong in turning to our dedicated staff who will always take you and your home into their first consideration, and back all of their workmanship with a 100% workmanship guarantee.
Recent Articles
The Benefits of Atlanta Closed Cell Foam Insulation

Atlanta Closed cell foam insulation is one of the two types of spray foam insulation. The main difference between closed and open cell insulation in that the former has multiple encapsulated cells which let neither air nor heat seep through while the latter is a porous structure of foam. The difference arises due to the base…

Read More

New Purpose For Old Jeans in Atlanta

Everyone knows the importance of roof insulation, especially if you live in areas of extreme temperatures - hot or cold. Roof insulation can drastically reduce your Atlanta heating or air conditioning needs, which will save you money and help the environment by reducing the amount greenhouse gasses released, not to mention keeping you and your…

Read More

If you're looking for a professional Canton Spray Foam Contractor, then give us a call today at 678-561-FOAM or complete our request estimate form.