Hartwell Spray Foam Insulation Contractor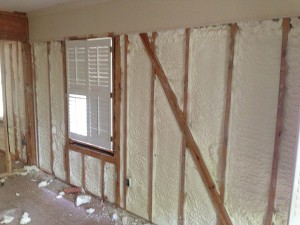 Do you have a sneaking suspicion that the fiberglass insulation in your Hartwell home or office is falling apart and not doing its job? Do you find bits of pink fluff everywhere? It might be time to ditch your tired old fiberglass insulation and replace it with something that will last. Spray foam insulation is not only more resilient than other kinds of barriers, but it comes with numerous other benefits as well.
If you're concerned about the condition of your Hartwell home or building due to poor insulation, then spray foam can help solve your problems. Hartwell spray foam insulation is liquid polyurethane that dries into a tough foam consistency over a surface. Because it's liquid, it can fill in tiny cracks and holes that fiberglass can't protect.
The thick, tightly sealed layer it creates is far more energy efficient than any other kind of material. It controls the indoor climate by keeping in more heat and cool air, depending on the weather. This will save you tons of money on electric bills, and be more comfortable for the occupants.
Why You Should Choose Southeastern Insulation
When it comes to quality service provided by knowledgeable professionals who take their customers seriously, you cannot go wrong in turning to Southeastern Insulation. We are wholly dedicated to offering the best in a complete customer service package, and know you will be pleased with the results on any job that we perform. Each and every one of our contractors are not only passionate about the service that they provide, but dedicated to offering the best results, and most enjoyable experience possible.
We are well versed in a variety of home energy efficiency improvements, and are willing to pass on that knowledge and experience to you. We can help you save money on each and every one of your heating and cooling bills, and any service that we provide will not only boost the value of your home, but help you save money in the long run!
Lower your energy bills each month!

Improve the energy efficiency of your entire home

Get quality workmanship guaranteed, 100%!

Enjoy the benefits of superior spray foam insulation

Have a significant boost to the efficiency of your home or business
Recent Articles
What Are the Top Benefits of Pipe Insulation in Your Atlanta Home?

You need to be very careful during the winter season. It is very much essential to make sure that your Atlanta home gets heated in the right manner. Other than this, you must also take care of the amount of heating required to heat your rooms. You must be careful that it does not become…

Read More

Choosing Different Types of Home Insulation

Some of us remember when the only option around were the rolls of pink insulation. And maybe that if you touched this pink stuff it made you itch like itching powder. However, things have changed a great deal in the past few years in regards to insulation. For one thing, you can choose different types…

Read More

If you're looking for a professional Hartwell Spray Foam Contractor, then give us a call today at 678-561-FOAM (678-561-3626) or complete our request estimate form.