Royston Spray Foam Insulation Contractor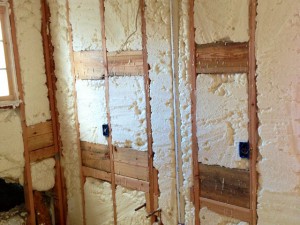 The costs will vary from place to place and it is advisable to shortlist a couple of spray foam manufactures to compare prices. Do it yourself kits can help you save 30 to 50% of the total cost you would incur were you to hire a professional. There is also the fact that spray foam doesn't need to be replaced and repaired unlike cellulose and fiberglass and also provides maximum insulation. It has a much shorter payback period than other types of insulation. You will soon have earned back whatever you invested through huge electricity bill savings.
Your Royston spray foam insulation contractor is your best choice for spray foam insulation for your Royston home.
Our Services:
Residential Spray Foam

Commercial Spray Foam

Industrial Spray Foam

Agricultural Spray Foam
The Advantage of Southeastern Insulation
With years of experience providing the very best in spray foam insulation services, you cannot go wrong in trusting your home or business to the caring touch of Southeastern insulation. Each and every one of our contractors knows what it takes to provide the best in customer service, and we are dedicated to offering that to each and every one of our customers, no matter the scale of the job. We are passionate about what we do and stay up to date on the latest trends and technologies in the industry, so we can pass that knowledge and the benefit of it onto you.
100% workmanship guaranteed

Professional, friendly service

The best value around
Fiberglass Insulation Services
Sometimes you want to go with a more affordable and traditional solution and we can also offer that at Southeastern Insulation. We are well versed in all forms of insulation including traditional fiberglass insulation. Though it lacks some of the benefits of the newer insulation technologies, it still offers exceptional results and is one of the most used methods of providing home insulation for a reason!
Crawlspace Encapsulation Service
There are many different ways that your home can end up siphoning off heating and cooling energy and one of those is through your home's crawlspaces. If your crawlspace is not properly encapsulated then you are letting energy dollars slip through your fingertips, and you should see about making a change right away. Not only will a crawlspace that has been encapsulated offer energy benefits, but there are other reasons to undergo this upgrade as well.
Improve structural integrity

Breathe cleaner air by reducing issues such as mold

Resistance against pests and vermin

Improve your R-value
Recent Articles
How Can Atlanta Thermal Imaging Help You Save Energy

A picture is worth a thousand words... or is it? A regular shot of a beautiful house may be picture-perfect. But when viewed through the eyes of a thermal imaging camera, it can reveal a lot of hidden issues. Atlanta thermal imaging is a technique using a special camera that detects heat radiation from the objects in…

Read More

Down Home Spray Foam Insulation in Marietta

In these economic times, many Marietta home owners are looking for more ways to make their homes energy efficient. One consideration for this is hiring  a professional insulation installer to use spray foam insulation to fill walls, nooks and crannies. As spray foam insulation is sprayed into openings in the area, it expands to create the…

Read More

If you're looking for a professional Royston Spray Foam Contractor, then give us a call today at 678-561-FOAM (678-561-3626) or complete our request estimate form.