Suwanee Spray Foam Insulation Contractor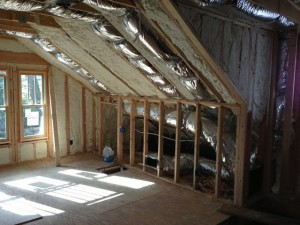 Suwanee spray foam insulation is liquid polyurethane that dries into a tough foam consistency over a surface. Because it's liquid, it can fill in tiny cracks and holes that fiberglass can't protect.
The thick, tightly sealed layer it creates is far more energy efficient than any other kind of material. It controls the indoor climate by keeping in more heat and cool air, depending on the weather. This will save you tons of money on electric bills, and be more comfortable for the occupants.
Suwanee spray foam insulation also doesn't come with any health risks. Fiberglass is made up of wiry, pink fibers that can make the skin sore and itchy if exposed to it. These fibers come loose and can be inhaled. Breathing in the fibers can cause lesions inside of the mouth and esophagus. Spray foam doesn't have tiny particles that break off and float into the air. It's also harmless to the touch, but is so durable that it does not crumble off anyways'
The Advantage of Southeastern Insulation
With years of experience providing the very best in spray foam insulation services, you cannot go wrong in trusting your home or business to the caring touch of Southeastern insulation. Each and every one of our contractors knows what it takes to provide the best in customer service, and we are dedicated to offering that to each and every one of our customers, no matter the scale of the job. We are passionate about what we do and stay up to date on the latest trends and technologies in the industry, so we can pass that knowledge and the benefit of it onto you.
100% workmanship guaranteed

Professional, friendly service

The best value around
Cellulose Insulation Installation
Consider the advantage of going green with brand new cellulose insulation! There's plenty of ways you can improve your environmental consciousness, and one of those is switching to cellulose insulation. This form of insulation is built from recycled materials and is the perfect choice for your new home if you want exceptional insulation that is 100% biodegradable and safe!
Fiberglass Insulation Services
Going the traditional route of fiberglass insulation is never a bad idea if you are looking for superior energy savings at an affordable price. We are well versed in all forms of insulation including traditional fiberglass insulation. Though it lacks some of the benefits of the newer insulation technologies, it still offers exceptional results and is one of the most used methods of providing home insulation for a reason!
Recent Articles
What Are the Top Benefits of Pipe Insulation in Your Atlanta Home?

You need to be very careful during the winter season. It is very much essential to make sure that your Atlanta home gets heated in the right manner. Other than this, you must also take care of the amount of heating required to heat your rooms. You must be careful that it does not become…

Read More

Marietta Spray Foam Insulation For Existing Homes

Do you have a sneaking suspicion that the fiberglass insulation in your Marietta home or office is falling apart and not doing its job? Do you find bits of pink fluff everywhere? It might be time to ditch your tired old fiberglass insulation and replace it with something that will last. Spray foam is not only…

Read More

If you're looking for a professional Suwanee Spray Foam Contractor, then give us a call today at 678-561-FOAM (678-561-3626) or complete our request estimate form.