Tucker and Vinings Decatur Spray Foam Insulation Contractor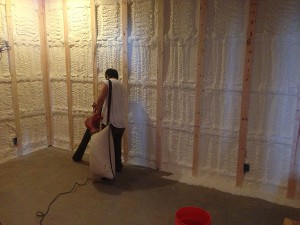 Spray Foam Insulation is polyurethane foam that is pumped into the area to be insulated. Once it is sprayed, it expands and hardens, forming a tight seal that is much more effective than traditional fiberglass insulation.
Spray foam insulation has proven to be extremely effective, much more effective than the traditional fiberglass insulation. In fact it is so effective that the military has employed it in Iraq and Afghanistan to keep the oppressive heat out of tents and communal structures, saving a great amount of taxpayer dollars due to the reduced need for fuel.
U.S. Department of Energy studies have shown that as much as 40% of the energy used in an average home is lost due to air infiltration. The amount of heat that escapes daily from a home that is insulated with fiberglass insulation could fill a blimp. This huge waste of energy, and hard-earned dollars, could be drastically reduced by installing spray foam insulation. In this day and age of soaring energy costs and increasingly limited household budgets, SPF is definitely the best choice for new construction, or to improve the energy efficiency of an old building.
Some other benefits are that it helps reduce moisture and mold, it deadens sound, making your house much quieter, and it even increases the overall building stability of the structure.
The truth is that SPF makes your hour house more energy-efficient and comfortable, while paying for it in only a few years.
Whether you are building a new home or renovating your old one you should consider having it insulated with spray foam insulation. It will help to lower your heating and cooling cost while lowering you and your family's risk of illness due to mold. So give our professional installation teams a call and see what they can do for you
The Southeastern Insulation Advantage
With years of service experience providing the Tucker and Vinings area with the absolute best in spray foam insulation and whole home energy efficiency services, you cannot go wrong in turning to the qualified professionals at Southeastern Insulation. We take great pride in the craftsmanship of our work and are wholly dedicated to offering the very best customer service at all times. If you want to take your home to new heights of energy efficiency, then you only need to call on us!
Recent Articles
New Purpose For Old Jeans in Atlanta

Everyone knows the importance of roof insulation, especially if you live in areas of extreme temperatures - hot or cold. Roof insulation can drastically reduce your Atlanta heating or air conditioning needs, which will save you money and help the environment by reducing the amount greenhouse gasses released, not to mention keeping you and your…

Read More

Key Insulation Areas in Your Atlanta Home or Office

Whether you are building a new home or making your current home more air tight, insulation is a vital component in home protection. With proper insulation you will see a drastic reduction in your energy bill each month which adds up to tremendous annual savings. Insulation allows your heater or air conditioning unit to run…

Read More

If you're looking for a professional Tucker and Vinings Decatur Spray Foam Contractor, then give us a call today at 678-561-FOAM (678-561-3626) or complete our request estimate form.