Young Harris Spray Foam Insulation Contractor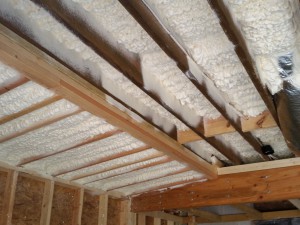 Last winter many suffered from Cold drafty homes and high hearing bills. They winterize, but that didn't help. What they didn't know is poor insulated walls and attics allow heat escape. Spray on foam insulations and installing attic insulation will help to reduce heating costs.
Spray on foam insulation is ecological safe insulation that will provide a safe a complete insulating solution for your needs. When you use spray foam insulation it will expand and seal all of the open cracks that will prevent drafts from moving through the walls.
So for whatever home insulating needs that you have call us and see what we can off you for the insulating of your home.
The Young Harris Southeastern Insulation Difference
When it comes to experience, no one can beat our spray foam contractors. We are well versed in all aspects of the insulation industry and can help properly advise you when it comes to making the right choices that will save you money in the long run, and provide superior results. Each of our contractors is wholly dedicated to offering the best service available, all for the best value.
Workmanship guaranteed, 100%

Improve your energy savings

Expert advice and service

Unmatched professionalism

We believe strongly in our products
Cellulose Insulation Installation
When it comes to going green, there is no option better than cellulose insulation. This unique form of insulation is built from recycled materials and offers considerable energy savings due to its exceptional thermal barrier. Improve the energy efficiency of your home and do so in a manner that is environmentally friendly with cellulose insulation!
Young Harris Closed Cell Insulation
Spray on foam insulation is one of the best forms of insulation out there on the market, and our closed cell insulation can provide unmatched sealing and durability that you simply won't find anywhere else. This form of insulation is so durable it can even be used for outdoor projects and it offers substantial protection against condensation or mold growth. Boost the structural integrity of your home and your energy savings with closed cell foam insulation.
Total Home Efficiency
If you are looking for new ways to cut back on your monthly energy bills, consider scheduling a visit from the contractors at Southeastern Insulation. We will visit your Young Harris home and help you determine where you can make changes to lower your monthly costs. There are many different ways you can bolster your efficiency, from properly sealing windows and doors, to adding additional insulation in sections of your home; whatever the need may be, we will be able to help you find the perfect solution.
Recent Articles
Atlanta Foam Pipe Insulation: Solution to Sweating Pipes

Water puddles on your basement floor is very common among houses with Atlanta sweating pipes. Truly, this dilemma is shared by almost all homeowners in the state, even in and out of the country. Sweating pipes destroy our furniture. On the other hand, water puddles are the culprit behind slippery floors that are considered unsafe for…

Read More

The Benefits of Atlanta Closed Cell Foam Insulation

Atlanta Closed cell foam insulation is one of the two types of spray foam insulation. The main difference between closed and open cell insulation in that the former has multiple encapsulated cells which let neither air nor heat seep through while the latter is a porous structure of foam. The difference arises due to the base…

Read More

If you're looking for a professional Young Harris Spray Foam Contractor, then give us a call today at 678-561-FOAM (678-561-3626) or complete our request estimate form.