Barn Insulation with Closed Cell Spray Foam on Yorkville Highway, in Rockmart, GA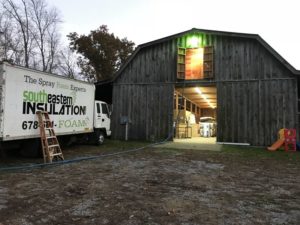 Insulated a second floor buildout of a large barn in Rockmart Ga. We sprayed 2.5 inch average of Closed cell spray foam on the roof to insulate the living space. Customer had serious issues with condensation on the metal roof and since the closed cell spray foam is a vapor barrier not only did she get a very well insulated roof it will no longer condensate. The customer loves the performance of the Spray foam insulation.
Photo Gallery
If you're looking for Closed Cell Spray Foam in Rockmart, GA, then give us a call today at 678-561-FOAM (678-561-3626) or complete our request estimate form.