Atlanta Spray Foam Insulation Contractor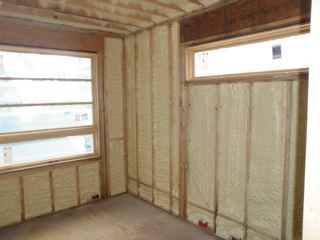 Residential spray foam insulation is liquid polyurethane that forms into a solid, foam-like substance once it hits a solid surface. The liquid state allows it to penetrate fine cracks and holes in the surface that products like fiberglass can't protect. Since the entire surface area is sealed, it is much more energy efficient than any other material available.
It keeps more warm air in during cold months, and keeps it out when it becomes hot. Your electric bill will reduce, saving you money and helping the environment. Buildings with spray foam insulation also sell at higher prices, adding value to your property.
Atlanta spray foam insulation also discourages pests from burrowing into your home. The insulation is difficult to tear through, and it can be sprayed along cracks and openings to ensure that no uninvited guests attempt to slip inside of your home. You'll no longer have to fumigate with dangerous pesticides. It can also help keep moisture out, and is excellent for preventing mold and water damage.
Recent Articles
Why Choose Spray Foam Insulation in Atlanta?

Choosing the right material is as important as investing in insulating our buildings in the first place - there is little point doing it if the insulation can't offer good enough performance to really make a difference, or isn't going to be up to the job in the long term. Specifiers need to understand the…

Read More

What An Atlanta Radiant Heat Barrier Means For You

Do you feel like the hot sun is constantly beating down on your house? Installing an Atlanta radiant heat barrier is a great solution to this dilemma you are facing. They are an excellent way to be energy efficient as they reflect sunlight from your house and make it easier for you to retain a constant, comfortable…

Read More

If you're looking for a professional Atlanta Residential Spray Foam Contractor, then give us a call today at 678-561-FOAM (678-561-3626) or complete our request estimate form.