Atlanta Spray Foam Insulation Contractor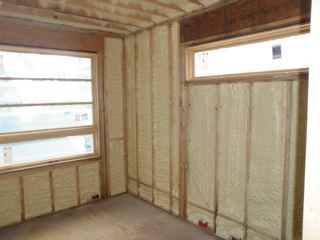 Residential spray foam insulation is liquid polyurethane that forms into a solid, foam-like substance once it hits a solid surface. The liquid state allows it to penetrate fine cracks and holes in the surface that products like fiberglass can't protect. Since the entire surface area is sealed, it is much more energy efficient than any other material available.
It keeps more warm air in during cold months, and keeps it out when it becomes hot. Your electric bill will reduce, saving you money and helping the environment. Buildings with spray foam insulation also sell at higher prices, adding value to your property.
Atlanta spray foam insulation also discourages pests from burrowing into your home. The insulation is difficult to tear through, and it can be sprayed along cracks and openings to ensure that no uninvited guests attempt to slip inside of your home. You'll no longer have to fumigate with dangerous pesticides. It can also help keep moisture out, and is excellent for preventing mold and water damage.
Recent Articles
Down Home Spray Foam Insulation in Marietta

In these economic times, many Marietta home owners are looking for more ways to make their homes energy efficient. One consideration for this is hiring  a professional insulation installer to use spray foam insulation to fill walls, nooks and crannies. As spray foam insulation is sprayed into openings in the area, it expands to create the…

Read More

What Are the Top Benefits of Pipe Insulation in Your Atlanta Home?

You need to be very careful during the winter season. It is very much essential to make sure that your Atlanta home gets heated in the right manner. Other than this, you must also take care of the amount of heating required to heat your rooms. You must be careful that it does not become…

Read More

If you're looking for a professional Atlanta Residential Spray Foam Contractor, then give us a call today at 678-561-FOAM (678-561-3626) or complete our request estimate form.