Suches Spray Foam Insulation Contractor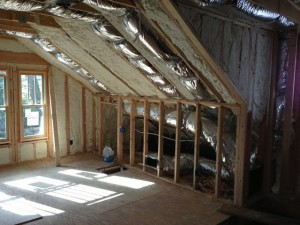 There are many ways one can upgrade their home, but sometimes the most important upgrades are overlooked. When building the foundation of your home, installing spray foam insulation can be just the thing that will help you and your family enjoy the benefits of many different things.
Being energy efficient is a quality in a home that we all crave for. Spray foam insulation stops any air from escaping the cracks of your walls, saving you a bundle of money in energy bills. Not only does the insulation stop the air from flowing out, but protects you from any harmful toxins that are allowed to push their way through a wall that lacks insulation. This means that any dust, pollen, or mold that was once allowed to habitat the barrier of your home are now shut out
Your Suches spray foam insulation contractor is your best choice for spray foam insulation for your Suches home.
Our Services:
Residential Spray Foam

Commercial Spray Foam

Industrial Spray Foam

Agricultural Spray Foam
Insulation Removal Services
With the wide variety of potential health problems you can face when attempting to uninstall insulation, this is something that you should never undergo with the right knowledge and tools for the job. This is why you want to make certain that you have this service provided by a professional with the right tools and training to get the job done right and safely. You should never take risks with your health, so have your home's insulation removed by the experts at Southeastern Insulation, who will extract and dispose of it properly.
Total home Efficiency
There are a wide variety of methods that can be followed to boost the energy efficiency of your Suches home. Instead of doing the guesswork, have your home's energy efficiency boosted after a visit from the expert staff at Southeastern Insulation. We will be able to properly assess the efficiency of your home as it stands, and make the right recommendations and provide the needed solutions to maximize your energy savings.
The Southeastern Insulation Advantage
When it comes to providing the very best service and the most benefit for your dollar, you cannot go wrong in turning to Southeastern Insulation. We are passionate about the service and the product that we provide, and know that you will be more than pleased with the results of any job that we perform. Our specialized contractors always go that extra mile with their service, and know that you will be more than happy with the results!
Recent Articles
Benefits Of Thermal Imaging For Atlanta Home Owners

Thermal imaging is a scientific method of viewing infrared energy that is emitted, transmitted, and reflected by an object. This is done with a device called a thermal imaging camera. These cameras are able to display images represented by temperature. This is done using color or grayscale images with temperature differences being displayed in a…

Read More

Closed Cell vs. Open Cell Spray Foam Insulation

Spray foam insulation is very popular in Cornelia and can be used in various areas of a home. There are two types of spray foam insulation to choose from – closed cell foam and open cell foam. Spray foam insulation is easy to apply, and it prevents air from seeping in and out of the…

Read More

If you're looking for a professional Suches Spray Foam Contractor, then give us a call today at 678-561-FOAM (678-561-3626) or complete our request estimate form.